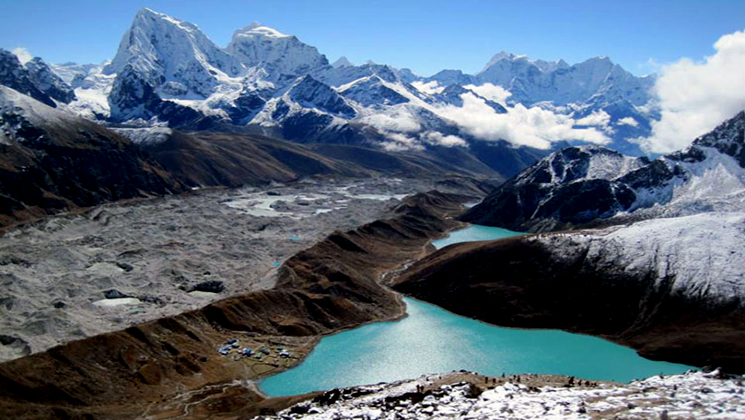 Gokyo lake Nepal is a turquoise lake situated close to a ring of snow-capped peaks located in the picturesque location of the Everest Region. Most of the adventure lovers prefer to choose this program while exploring the Everest Base Camp. Everest Base Camp is the ultimate bucket list trekking location. The Everest Base Camp, Gokyo Lake, and Chola Pass Treks take you into the lap of the Himalayas and the home of the highest mountain in the world Mt Everest at 8848m.
Everest Base Camp, a significant attraction in the Gokyo Lake Nepal Trek, is situated at an altitude of 5364 m and brings you as close as you can get to the highest peak in the world (without a climbing permit). The viewpoint from Kala Patthar, 5545 m, allows a classic view of the Everest range including 4 of the world's 8000+ m peaks. This magnificent trek will bring you to the starting point of summit attempts and in spring you can even view the hustle and bustle of the climbers preparing for summit attempts.
A highlight of the trek is the climb of Gokyo Ri (5357 m) which provides a wonderful early morning view of the surrounding ranges as well as that of Mt Everest and 3 other 8000+ m peaks. It is said that the view from Gokyo Ri surpasses that of Kala Pattar (the highlight of the Everest Base Camp trek).
Culture and Religion on The Gokyo Lake Trek
Guests are regarded as Gods according to Nepalese tradition and culture. You will be greeted with a soft voice saying "Namaste" accompanied by the joining of palms together. Save plenty of space on your memory card as you will witness countless photographic moments. You will be immersed in the fascinating Sherpa community culture and traditional way of life.
The religion that is dominant in the region is Buddhism, which is evident by the fact that you will find numerous Buddhist relics and heritages like monasteries, stupas, gompas, chortens, and so on scattered on the Gokyo lake trek route. The most significant religious heritage of the region is Tengboche Monastery in Tengboche village. People from all over Khumbu visit the place during special occasions, whether it's moments of sadness and grief or it's times of happiness and celebrations.
Other Highlights of Gokyo Lake Trek
Gokyo Lake trek route is a part of Sagarmatha National Park, which is one of the most significant protected areas of Nepal, and even the world, as it has been retaining a few of the rarest species of plants and animals out there. During your trek, you will walk through forests with so many different kinds of trees, such as Rhododendron, Pine, Fir, Birch, Juniper, and so on. If you're lucky enough, you could spot animals like Himalayan Black Bear, Musk Deer, and even Snow Leopards, and birds like Himalayan Monal, Red-Billed Chough, Blood Pheasant, and so on.
You will cross and walk alongside rivers like Dudh Koshi on the trek. You will …